Surprise! Whidbey is scenic. OK; islanders already know that. Plenty of tourists do, too. Now, it's official. The route from Deception Pass (with a spur to Keystone, er Coupeville, er the ferry to Port Townsend) to the ferry at Clinton is now officially a National Scenic Byway. Whidbey Island has been part of the Cascade Loop for years, but that early State designation is now National, too. That's something to keep in mind the next time traffic is bogged down or there's a ferry line. What might be a nuisance to a local is part of a much bigger draw to others.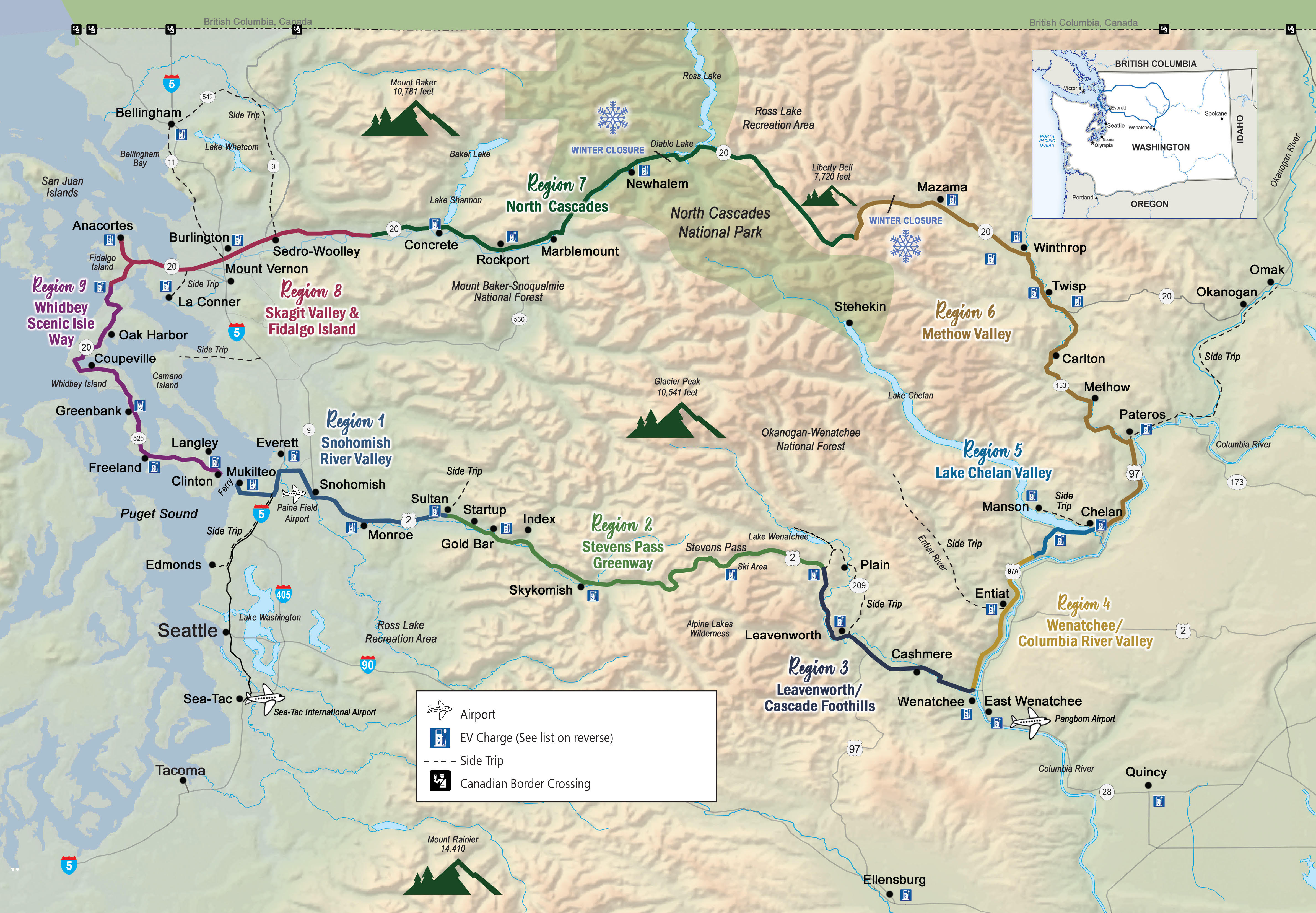 The Cascade Loop is much more than Whidbey Island. Whidbey's portion is 52 miles of the 440 mile route. It is a drive that appropriately named. Some scenic drives are all one thing: seaside, in the mountains, across deserts, etc. The Cascade Loop doesn't stay the same for very long. Islanders can recognize the differences along the local 52 miles: cliffs and views to the Pacific, rain shadow prairies, then forests and glacial remains and terrains that lead back to sea level. Along the way, the Olympics might be visible to the west. The mountains that the Loop is named after, the Cascades, might be visible to the east.
'Might be visible' is a key consideration. Weather affects the Cascade Loop. In August, it is possible to drive the entire Byway under clear skies – if you can fit in 440 miles between sunrise and sunset while many others are traveling along parts of the route as well. The rest of the year, either set of mountains may be hiding behind weather that can be anything from obscuring mist to heavy snow. Enough snow falls that the north part of the Loop is closed for months as feet of snow and dangerous avalanche zones are more than plows can safely manage.
Whidbey's portion of the Loop is (almost) always open, hence its attraction. Hence, part of the island's traffic, too. Those sylvan stretches on either side of the bridge (and there's only one bridge to speak of), wind through thick forest and jump from cliff to island to cliff. Great visuals! Also, narrow and a place to be wary as people distracted by the view may not be moving as fast as a commuter prefers.
The Loop doesn't have to be experienced by car. The traffic to this blog is enough proof that bicyclists like the island, despite the hills. The earlier post Bicycling Whidbey Island continues to be one of the most visited posts even though it was written over two years ago. According to Google, the drive is about an hour by car while the ride by bicycle is a little over four hours. Your experience may vary, particularly when comparing times by bike. (Island Transit sometimes confuses Google, so good luck with that figuring out the time by bus.) In either case, except for commuters, it isn't a surprise if distractions add hours or days to the trip. Some even decide to never leave, or at least to make sure they come back to a new-found home.
The designation will mean more to people off-island and to the businesses that serve them, more than to locals. To locals, it's still a bit of 525, or 20, or both – well-worn routes with well-practiced stops. New or patched potholes may be more noticeable than grand vistas and picture postcard moments (now known as Instagram and selfie opportunities.) Visitors might appreciate a few more places to pull off the road, especially if there's a rest room. Some signage to point out that, yes that is the ocean and not a big lake, and yes you are actually north of Canada at times, and watch for deer. There's also no reason to stop to watch every bunny or bird. There are plenty to see, and usually quieter places to watch them.
The roads may not change. There's more work being done on bike routes, paths, trails, and signage. The bike shops already seem to be busy enough. Maybe there's room for more, or more reason for more bike racks.
Something else for visitors to remember, The Loop is scenic, but so is the rest of the island. Make a detour. Purposely try to get lost. (Remember, it's an island so it really is hard to get truly lost. Getting Lost On An Island) Explore, and maybe take the opportunity to slow down just a bit – but not during the commute.